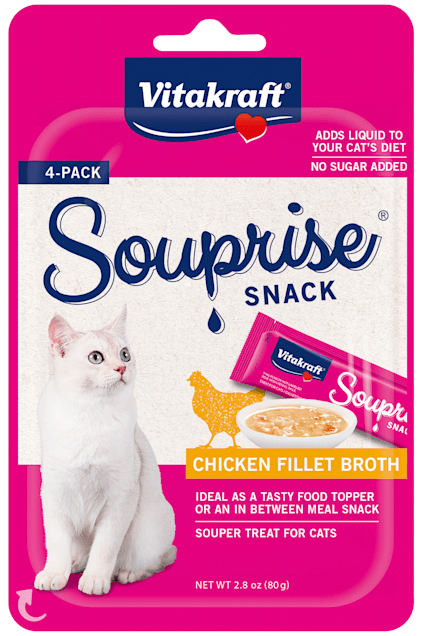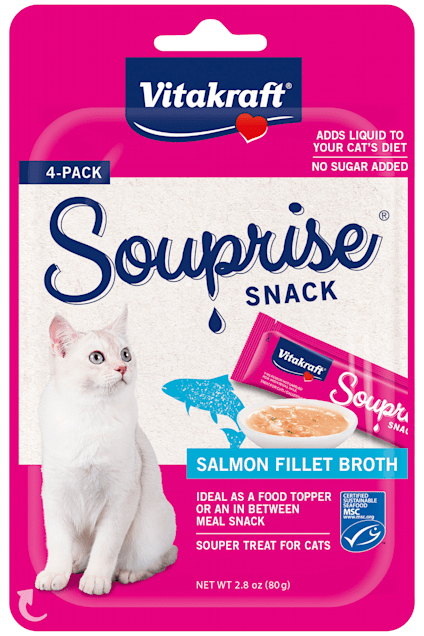 Thick and Creamy Topper or Side Dish
Chicken Recipe & Salmon Recipe
Available in Single or Multipack
BUY NOW
Keeping your kitty-cat happy just got easier
for cat owners in
Cats will come running for this tasty, saucy chicken OR salmon broth!
The delicious smell is sure to please any cat. Each soup package contains small pouches for individual serving occasions, which also makes pouring directly in a dish or using as a food topper very easy.
It's important for cats to get the proper liquid amount in their diet and this treat can help with that. The chicken recipe includes chicken broth, real chicken fillet pieces and carrots and the salmon recipe includes salmon broth, real salmon fillet pieces and spinach!
Feeding Suggestion
Feed as a treat or food topper. Feed 2–3 sachets per day for adult cats. When feeding, please reduce the complete food. Serve at room temperature.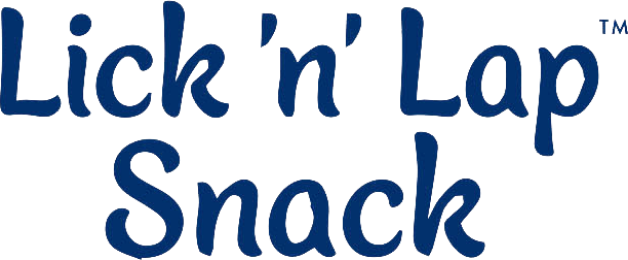 Creamy Lickable Treat in a Squeezable Tube
Squeeze this creamy, low-calorie treat right from the tube onto your cat's tongue and watch your cat lick 'n' lap it all up!

Super Soft Bite-Sized Meaty Treats
Cats love the size, texture and high meat content of these soft and tasty, double-meaty treats!

Gently Oven-Roasted Cat Sticks
High meat content (>70%), small batch production and premium ingredients combine to make these truly irresistible.

Thick and Creamy Topper or Side Dish
Tender chicken fillet pieces in a thick and creamy stew! Great for older cats!
We know what Cats are really into